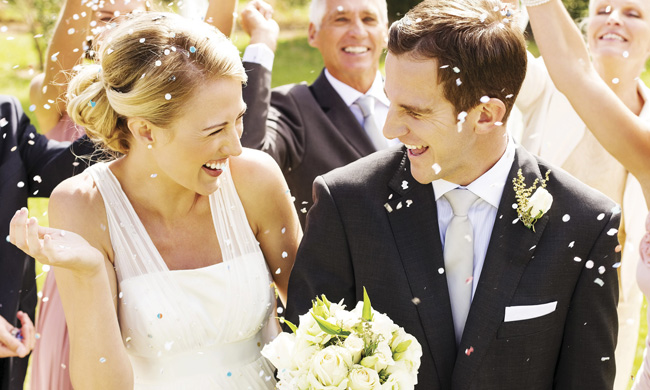 An engagement is a moment to cherish and celebrate, for sure, but it also signals the beginning of a whirlwind of activity leading up to your big day. While the task list is long, if you tackle your wedding planning one step at a time, you can create the wedding of your dreams with the flair of a professional.
Set a budget
Although looking at something as practical as numbers can feel like a jolt from the euphoria of celebrating your engagement, starting your planning from a realistic vantage point will pay off in the long run. You'll be able to avoid disappointment by simply skipping over venues or caterers you can't afford, and knowing how you stand financially can ease some of the stress that goes along with planning.
As you create your budget, be sure to take into account the big elements (venue, dress, cake, photographer, etc.) and the smaller details, too (guest book, bridal party gifts, flower girl basket, etc.). As you allocate your budget across the categories, think about the features that matter most – the aspects of your wedding that make you most excited. It may be a to-die-for dress or an amazing meal to share with your guests – it's your wedding, so it's all up to you (and your beloved, of course).
Explore your style
Whether you've dreamed of your big day since you were a little girl or you're newly contemplating your dream wedding, this is your chance to create an event that captures your personality and style. Today's weddings are far less traditional than decades and generations past, so the sky is nearly the limit for orchestrating a day that reflects your own version of wedding bliss. You'll need begin with some basics, such as how big the event will be (25 guests or 300?) and where you want to be married (your hometown, his or someplace else entirely?). Then think about whether you want a casual or formal affair, and what style best reflects you (modern or classic, rustic or retro?). If you don't know for sure, there are plenty of magazines and online resources to lend inspiration and ideas.
Determine a timeline
Lots of details need to come together before you can set a firm date, but knowing approximately when you want to hold your wedding is a good starting point for most couples. This gives you some flexibility to work around venue availability, conflicts for those you want in your wedding party and so on. Determine a season or even a month and then start honing in on the exact date. Once you have a final date set and confirm the location, you can work backward to determine milestones such as mailing invitations, providing menu selections and confirming your floral order.
Dive into the details
Once you have your preliminary homework done, it's time to dive into the real fun. Extend formal invites to your wedding party, consider their attire, register for gifts, and interview and hire vendors. Look for ways to make each moment special, such as planning a girls' day out with your bridal party and loved ones while you shop for a dress. Also remember essential steps like insuring your ring and applying for a passport if you'll need one for the honeymoon.
Find more tips for planning the wedding of your dreams at elivingtoday.com.