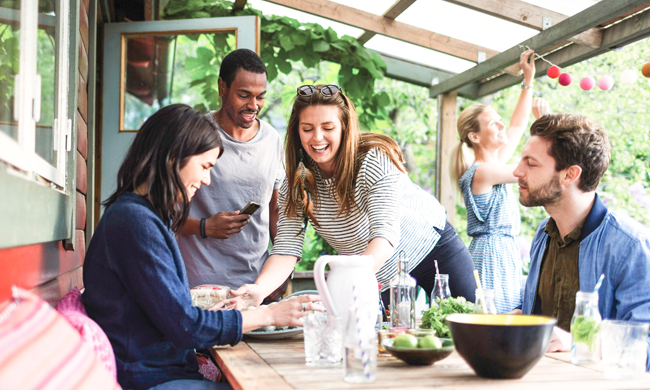 Not every home is equipped with an expansive lawn dotted with natural gathering places. Though these settings make entertaining easier, small garden spaces and patios lend their own special character for hosting get-togethers that are just as pleasing.
Making the most of your limited space, getting creative and planning carefully are essential when it comes to hosting a small-space celebration.
Be smart about space. The first step in preparing your area for entertaining is eliminating any unnecessary clutter. Not only will unnecessary items restrict your physical space, they also create visual distractions that can make a modest setting appear smaller. Another savvy tip is to rely on multi-purpose furniture and accessories, such as a storage ottoman that functions as a footrest or extra seating. When shopping for furniture, keep scale in mind and avoid purchasing bulky pieces that will dominate the space.
Especially if your guest lists fluctuate often, look for comfy but portable seating you can easily add or remove as needed. As you arrange furniture, stick to the perimeter. Avoid large, centrally placed patio tables or fire pits that might create an obstacle, and instead create intimate conversation spots with a couple of chairs and a table in-between.
For more intimate gatherings and a small plate-centric menu, a counter-height island surrounded by barstools is a solution that provides a handy prep surface, eating location and opportunity to engage with guests while you refill serving dishes.
Create a fun vibe. Set the right mood for your get-together and guests will quickly forget they're in a confined area. A cozy, comforting ambience works well for most small spaces. Soft lighting, plush textiles and warm color tones all lend well to an intimate setting.
However, it's also possible to bring a more upbeat, contemporary aura to your event; a minimalist approach to furnishings and more vibrant color scheme can also help make the space seem larger. The key is creating balance and keeping decorations to a minimum so they don't overwhelm, rather than accent, the space.
Get organized. Traffic flow can be the biggest obstacle of hosting in a small space, but artful planning can help ensure guests can access all the necessities with ease. Start by making sure there's a clear path to entry and exit points. Situate food stations away from the doorways to discourage groups from forming and preventing guests from moving around, finding their way to the restroom and so on. Rather than a single buffet table, which can create lines and congestion, try scattering food stations around the area in which you're entertaining.
Another way to boost your culinary offering: take advantage of vertical space with tiered serving platters. When it comes to beverages, complementing the evening's decor with stylish containers holding drinks on ice can provide a fun pop of color and break up the food and beverage areas.
Find more tips to perfect your small-space entertaining at eLivingToday.com.